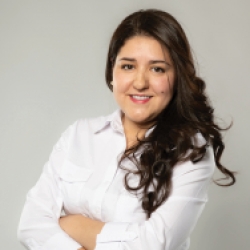 Abeer AlJarrah
Assistant Professor
Undergraduate Advisor
Phone: (415) 405-0787
Email: abeer@sfsu.edu
Location: Thornton Hall 949
Office Hours:

Biography
Mobile Applications Security
Access Controls
Policy Conguration/Enforcement
Web Security
Application-level Attacks
Native and Hybrid Apps
Computer Science Education
UNCC Provost Teaching Award 2016
Abeer AlJarrah and Mohamed Shehab. "CordovaConfig: A Tool for Mobile Hybrid Apps' Configuration" . ACM 17th International Conference on Mobile and Ubiquitous Multimedia (MUM 2018)
Abeer AlJarrah and Mohamed Shehab. "Closer Look Inside Mobile Hybrid Apps Configurations: Statistics & Implications". IEEE Future of Information and Communication Conference (FICC) 2019.
Abeer AlJarrah , Michael Thomas and Mohamed Shehab. "Investigating Temporal Access in A Flipped Classroom: Procrastination Persists". International Journal of Educational Technology in Higher Education 2017
Abeer AlJarrah and Mohamed Shehab. "The Demon is in the Configuration: Revisiting Hybrid Mobile Apps Conguration". Proceedings of the 12th International Conference on Availability, Reliability and Security. ACM, 2017
Abeer AlJarrah and Mohamed Shehab. "Maintaining User Interface Integrity on Android". COMPSAC. IEEE, 2016.
Mohamed Shehab and Abeer AlJarrah. 2014. "Reducing Attack Surface on Cordova-based Hybrid Mobile Apps". In Proceedings of the 2nd International Workshop on Mobile Development Lifecycle (MobileDeLi '14). ACM, New York, NY, USA, 1-8.