Artificial Intelligence Scholarships
From self-driving cars to smart speakers, AI is changing the way we work, learn, and communicate, and its role in our society is becoming increasingly critical.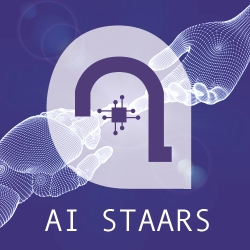 AI-STAARS Program
Artificial Intelligence Scholarships that Improve Academic Achievement, Retention, and Career Success (AI-STAARS) is a program whose goal is to provide early AI exposure to computer science bachelors students.  AI-STAARS program also provides academic support and career coaching that the students need to graduate with a CS degree and ultimately take their place in this fast-growing field. No prior computer science or AI background is needed to participate in the program.
There are three key components are designed to facilitate students' academic progress and to guide them with their future careers in Computer Science and Artificial Intelligence.
Academic and Career Advising
A TGIF (Thank God Its Friday) series
Winter and Summer break activities.
No Experience in CS or AI Necessary →
Academic Support & Mentorships →
Fun Hands-on AI Workshops →
Professional Development & Internships
The objectives of the AI-STAARS program are:
To improve information equity through intensive and tailored academic and professional advising
To increase the academic and professional self-efficacy through co-curricular activities that provide early AI exposure, career coaching, and research and industry experiences in AI
To develop students' sense of belonging and identity as computer scientists by helping them become part of the CS community and by humanizing CS and AI via showcasing role models and social good projects.
AI-STAARS is a year-long program that also offers scholarships based on financial need. Students will join during the Fall and continue until the Summer. Students in this program will engage in three key components:
Intensive advising
A TGIF (Thank God Its Friday) series
Winter and Summer break activities.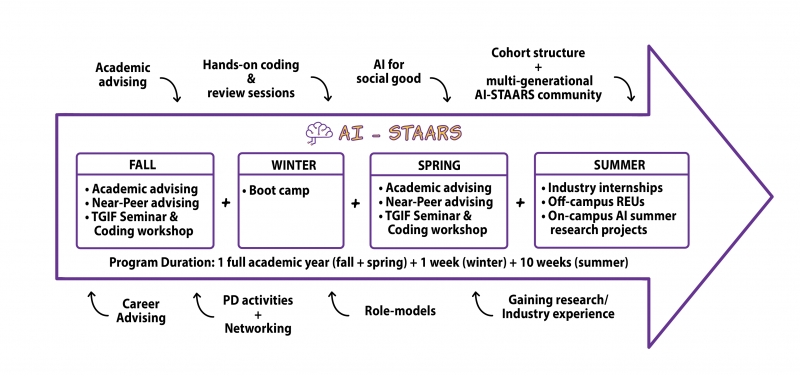 Academic advising - Like many science and engineering bachelor's programs, SFSU's CS major has a high unit load, and many required courses have two or more prerequisite courses. For such programs, it is imperative that students make steady progress through major courses to graduate on time, taking the right courses in the right order. Academic advising will keep students on track to graduate on time.

Career advising -  The advising component of AI-STAARS is designed to address the next career step. Students may be unaware of all the internship, job opportunities, or professional development events happening on campus because their busy lives (part-time/full-time jobs, commuter student status) prevent them from being aware. Career advisors will bridge the gap and address these problems by improving information equality for the scholars.

Career planning resources for students: 
TGIF series consists of 2-hour sessions on Friday afternoons during academic semesters (currently held virtually).
Most sessions will consist of an AI-focused talk and a fun hands-on workshop.
Some of the sessions will be dedicated to professional development activities (resume and professional profile building workshop, career panels, interview preparation workshops)
Our 1-week winter boot camp and 10-week summer paths program will provide AI-STAARS scholars with the combination of structure and flexibility they need to do well in their CS courses and get started on the path of AI careers
Winter - In the Winter, AI-STAARS student will participate in a 1-week boot camp to help students consolidate the concepts and skills they learned previously in the fall. This will help prepare and build the skills further so students can get ready for the spring semester. Students will work in groups with a mentor to work on topics they may have struggled with.
Summer - In the Summer, after their first year of SF State coursework, the summer paths program will engage AI-STAARS scholars in external internships and REUs, or in opportunities to develop their CS/AI skills through research in different labs
Applications for the AI-STAARS Program has closed for the 2021-2022 academic year.  Please check back soon for the next application period.