The department is committed to making the computer science field more diverse and to provide an inclusive environment for people of all backgrounds. We celebrate and value justice, equity, diversity and inclusion as fundamental to our mission. 
Faculty Making a Difference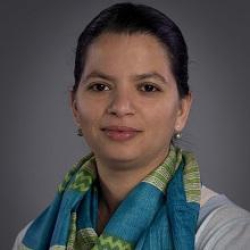 SF State Science Coding Programs Boost Biotech Diversity
Despite the San Francisco Bay Area being one of the most diverse regions in the country, the technology industries that call it home still lack diversity. Faculty members in the Promoting Inclusivity and Computing (PINC) program at San Francisco State University aim to change this. Their efforts have recently received recognition from both academia and the biotech industry, including two recent grants from the Genentech Foundation and Genentech, Inc. totaling over $1.2 million.
"It's very male driven — gender diversity is very low, and ethnic and racial diversity are also very low."
Associate Professor of Computer Science Anagha Kulkarni
Diversity, Equity & Outreach Committee
Establish ties with off-campus professionals, companies, foundations, and other educational institutions.
Solicit feedback for curricula updates from off-campus entities.
Represent the Department at outreach events.
Maintain and engage alumni of the Department.
Alumni management:

Create and maintain a list of alumni.
Send occasional updates to alumni.
Organize the Department's annual Alumni Mixer event.

Industry Advisory Board (IAB):

Define statues of the Department's IAB.
Solicit and recruit members for the IAB.
Organize regular meetings with the member of the IAB.
Relay feedback from the IAB to the Department Affairs Committee.

Offer at least five presentations for the Department's Computer Science Seminar Series.
General outreach (e.g., K12)
Update the Department's web presence and social networks.
Organize the Department's Graduation Celebration.
Seek unrestricted funding opportunities and donations for the benefit of the Department in collaboration with the college's development office.