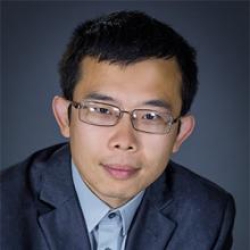 Hao Yue
Associate Professor
Associate Chair
Phone: (415) 338-2289
Email: haoyue@sfsu.edu
Location: Thornton Hall 930
Biography
Machine Learning and AI for Networking
Machine Learning and AI for Cybersecurity
CS Education
Collaborative Research: CS4SF: A Scalable Model for Preparing High School Teachers to Provide Rigorous, Inclusive Computer Science Instruction, PI, $389,996, NSF, 10/01/2018-09/31/2021.
MRI: Acquisition of a Power-Hardware-in-the-Loop (PHIL) System to Enhance Research and Student Research Training in Engineering and Computer Science, Co-PI, $297,318, NSF, 09/15/2017-08/31/2020.
SFSU Robert Noyce STAJES - STEM Teaching toward a Just and Equitable Society, Co-PI, $1,200,000, NSF, 06/01/2019-05/31/2024.
Dian Shi, Jiahao Ding, Sai Mounika Errapotu, Hao Yue, Wenjun Xu, Xiangwei Zhou, and Miao Pan, "Deep Q-Network Based Route Scheduling for TNC Vehicles with Passengers' Location Differential Privacy," IEEE Internet of Things Journal (IOTJ), vol. 6, no. 5, pp. 7681-7692, October 2019.
Shaohua Li, Kaiping Xue, David Wei, Hao Yue, Nenghai Yu and Peilin Hong, "SecGrid: A Secure and Efficient SGX-enabled Smart Grid System with Rich Functionalities," IEEE Transactions on Information Forensics and Security (TIFS), vol. 15, pp. 1318-1330, September 2019.
Kaiping Xue, Peixuan He, Xiang Zhang, Qiudong Xia, David Wei, Hao Yue, and Feng Wu, "A Secure, Efficient and Accountable Edge-based Access Control Framework for Information Centric Networks," IEEE/ACM Transactions on Networking (TON), vol. 27, no. 3, pp. 1220-1233, June 2019.
Charles Tuttle*, Savankumar Patel*, and Hao Yue, "Malicious Message Detection on Twitter via Dissemination Paths", The IEEE International Conference on Computing, Networking and Communications (ICNC 2020), Big Island, HI, February 17-20, 2020.
Liang Li, Ronghui Hou, Xinyue Zhang, Hao Yue, Hui Li, and Miao Pan, "Participant Recruitment for Coverage-Aware Mobile Crowdsensing with Location Differential Privacy", The IEEE Global Communications Conference (GLOBECOM 2019), Waikoloa, HI, December 9-13, 2019.