Our department has many opportunities to support your academic and career goals. Connect with our Bay Area partners and faculty network to succeed in your academic journey and career seeking prospects. 
Work with Innovative Leaders

Prepare for Your Future Job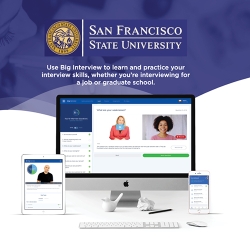 Big Interview
Preparing for a Job Interview
Use Big Interview to learn and practice your interview skills, whether you're interviewing for a job or graduate school. When preparing for a job interview, it's not enough to only read advice — you need to put that advice into practice! That's why Big Interview isn't just a training course. You'll also get hands-on practice with mock interviews tailored to your specific industry, job and experience level.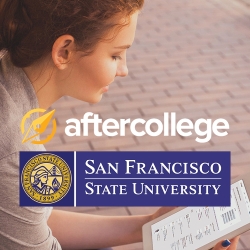 After College
Discover Entry-Level Jobs and Internships
Connect with employers eager to fill their internships and entry level jobs with college students and recent grads just like you. By creating a unique profile you can be easily discovered by the thousands of companies who are looking for candidates just like you.
SF State Work Placement Student Resources
F-1 Students Volunteering & Unpaid Internships Opportunities
OIP Information for International Students
Curricular Practical Training (CPT)
Purpose: CPT is a program that allows temporary employment authorization for International students in F-1 Student visa status. CPT is an alternate work/study, internship, cooperative education or other type of required practicum that a sponsoring employer offers through cooperative agreements with your college or university. CPT is only available for F-1 students when it is part of an established curriculum within a school. CPT must be integral to your program of study.
Length: CPT is semester based. CPT will begin no earlier than the first day of instruction and must end no later than the last day of final exams for the semester.
Eligibility:
GPA >= 2.0 for undergraduate students; GPA >= 3.0 for Graduate Students
Good academic standing, student must not be in probation at the time CPT is required
Valid F-1 status
Enrolled full-time. Minimum 12 units for undergraduate students or 8 units for graduate students. Waitlisted classes will not be counted towards full time requirement.
Fulfilled one year full-time requirement. You must have been enrolled full-time for at least one full academic year prior to submitting a CPT application. One year full-time enrollment may be fulfilled at SF State, a previous university, or between multiple universities
Internship offer letter from employer
Enrollment in CSC 694 (for undergrads, Cooperative Education) or CSC 893 (for graduate students, Supervised Industrial Research) in the same semester in which you are employed
Please note: Graduate students enrolled in Culminating Experience courses must have their committee chair send an email to Professor Shah Rukh Humayoun approving the request for CSC 893 enrollment.
CSC 694 and CSC 893 can be taken for 1 unit, up to three times total, and cannot be used as an elective or to fulfill minimum course load requirements. CS Department requirements are in addition to any requirements dictated OIP
The Department does not support students to take a full-time internship.
In order to ensure adequate focus on academic obligations, Fall and Spring CPT are approved on a case-by-case basis and for up to 20 hours per week. The steps below are the requirements for the Computer Science Department; you may have other required steps as dictated by OIP.
Provide Professor Shah Rukh Humayoun, via email, your current GPA and planned course load for the semester in which you are applying for CPT
Obtain an offer letter, with clearly stated start/end dates and number of hours anticipated per week (to a maximum of 20 h/week), to be sent to Professor Shah Rukh Humayoun for approval
Complete the CPT form and Learning Plan, and meet with Professor Shah Rukh Humayoun for approval and signature
Work with employer to complete Learning Plan form
Obtain a permit code for CSC 694 or CSC 893; you may not be able to add the approved course until the first week of classes
Upon completion of the internship, complete the required summary report and submit it, via email, to Professor Shah Rukn Humayoun. For more information, please refer to the syllabus: CSC 694/893 Industrial Research Syllabus
Graduate Students enrolled in Culminating Experience Courses must have their committee chair send an email to Professor Shah Rukn Humayoun approving the request for CSC 893 enrollment.
Students who qualify for CPT are eligible to work full time in the Summer semester.
Summer CPT applicants will follow the same steps as required for Fall/Spring CPT.
OPT/CPT - for International Students Only
Optional Practical Training (OPT)