The Master of Science in Computer Science prepares students for a wide variety of careers in computing or related industries as well as for advanced study toward Ph.D. degrees. 
Faculty will work closely with students to ensure they are successful in the program and they meet their academic goals.
Alumni Testimonial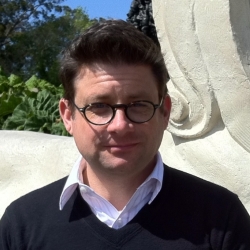 Marc Sosnick-Perez, M.S. Alumni
I chose SF State's computer science department for my graduate work for its small class size, easy access to professors, and the important research work in which the department is engaged. I was impressed by the program's ability to provide a strong theoretical base, while also providing preparation and skills necessary for future industry and academic work.
Work with Research Giants
Collaboration with Top Research Universities and Funding Provided by the Government and Industry Giants
Our faculty maintain active publication records, with significant funding from government agencies (NSF, NIH, Department of Labor, etc.) and industry (Genentech, Microsoft, IBM, Arista Networks, Mozilla, etc.). Students actively engage in research projects, write papers, attend conferences, and participate in funding proposals.
Graduate Admissions
Fall Semester 2024: October 1, 2023 - March 1, 2024
Spring Semester 2024: August 1, 2023 - October 1, 2023
All required application materials have to be received by the CalApply before the deadline to be considered for admission and the evaluation will commence after the deadline.
The following are mandatory requirements:
SF State's Online Application Form: Cal State Apply(link is external)
Undergraduate minimum GPA: 3.0 or higher
TOEFL/IELTS Scores for (prospective) holders of a non-US Bachelor's degree
4-year Bachelors Degree
Current general GRE (taken within last 3 years, submitted both electronically directly from ETS and uploaded as PDF to your Cal State Apply application)
2 Letters of Recommendation (Uploaded by your recommender in the Cal State Apply Application)
Statement of Purpose
Note: Simply meeting the minimum application requirements does not guarantee admission.
TOEFL: Institution Code: 4683
GRE: School Code: 4684
Thoroughly read through the Division of Graduate Studies Cal State Apply FAQ/TIP pages.
Apply for admission to SF State through Cal State Apply.
Upload all required documents via Cal State Apply.
Arrange to have your letters of recommendation uploaded by your recommender directly to Cal State Apply.
If applicant meets the preliminary admissions criteria then the application is forwarded to the Computer Science Department for final review.
Use the Evaluations tab on Cal State Apply to manage submission of letters of recommendation. Letter writer email addresses should be from professional or academic organizations (ex. @sfsu.edu, @CA.gov or @ibm.com), not personal email addresses.
Letters of recommendation should be uploaded by your recommender to your Cal State Apply application.
Letters of recommendation should come from an academic or professional reference and should include information to help us determine if you are a serious and qualified candidate.
Your letters of recommendation must include your full name used on your application.
Note: We do not accept photocopies or letters of recommendation that have been opened or sent by the applicant.
The prospective student submits an online application and all required documents via Cal State Apply. The GRE scores are acceptable if taken within three years of application to the program.
All documents, including transcripts, official TOEFL and GRE scores and Letters of Recommendation, along with the application, must be submitted by the application deadline, or the application will not be reviewed. So please plan ahead to submit ALL your documents before the deadline. (We may accept Letters of Recommendations within two weeks of the application deadline.)
Although there are no minimum score requirements for the GRE, many of our successful applicants score in the 75th percentile or higher for the quantitative section. Verbal GRE scores may be lower than this, however a score of 4.0 or higher on the analytical writing portion of the GRE clears English Level I requirements.
The Graduate Division will check the application materials to ensure that the applicant has satisfied general SF State requirements such as minimum grade point average, receipt of official transcripts from all prior institutions attended, completed Bachelor's degree from a 4 year program (or, equivalent) and requisite TOEFL scores where applicable. In addition, the Computer Science Department will check the preparedness of the student to successfully participate in the Computer Science Masters Program.
Applicants should direct questions to the Graduate Division office to obtain information on the status of materials sent to the Graduate Division (e.g., transcripts, TOEFL scores).
Students who have obtained, or will shortly obtain, a Bachelor's degree in Computer Science from SF State or other CSU campuses are urged to consult with the Department Chair as early as possible for assistance in applying to the graduate program.
Once all application materials have been received, the application will be reviewed, with the decisions forwarded to the applicant shortly thereafter.
These students may be admitted on condition that they achieve the requisite grade point average in specified prerequisite courses in the minimum possible time. Therefore, we strongly encourage students who have completed a bachelor's (or postgraduate) degree in other disciplines, such as Biology, Mathematics or Physics, or who have significant practical experience in a computer related field to apply to our masters program.
These students should upload a completed Course Equivalency Form (CEF) to their online applications when applying using Cal State Apply. The CEF will be used to determine the necessary conditional courses to be completed after admission to the program.
Please click here for CEF: Department Course Equivalency Form (Word)
The Conditions for admission will be clearly stated in the admission documents. Students must satisfy those conditions in order to continue in their graduate program.
Prospective students are welcome to send any questions after thoroughly reviewing all posted materials by emailing the graduate advising assistant at csgrad@sfsu.edu.
Quick Links