Computer science is one of the fastest-growing, most prolific industries. Having the right skillset from SF State equips you to embrace opportunities in the Bay Area, US, or the world. The applications are virtually unlimited. Make a career in fields like:
Application analyst
Applications developer
Cyber security analyst
Data analyst
Database administrator
Forensic computer analyst
Information systems manager
Hardware engineer
IT consultant
IT sales professional
IT trainer
Nanotechnologist
Network engineer
Professor
Researcher
Security analyst
Software engineer
Systems analyst
Supply chain manager
Telecommunications researcher
UX designer
Video game designer
Video game developer
Web designer
Web developer
Aerospace and defense
Education
Financial services
Healthcare
Our Partnerships Provide Students With Opportunities

Alumni Testimonial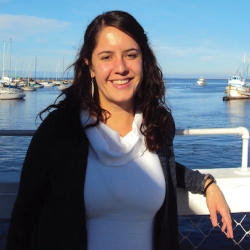 Therese Demers, B.S. Graduate
The experience that came from working on challenging projects with great faculty has helped me tremendously later in my professional life. My work at UCSF and now at the University of Toronto is a testament to the excellent faculty at SF State. The projects that we did at SF State are very different from the CS programs at other schools and really set my profile apart.
Get Ready for Your Future at SF State